Sorted Guaranteed Life Insurance could mean peace of mind for you and a helping hand for your loved ones.
You can leave a cash sum from £2,000 to £15,000 (depending on your age) to help them cope with funeral costs and any final expenses. You could even leave a little something for the grandkids.
Check the maximum amount you can choose below:
Choose between a Single or Family Policy and, if you're aged up to 69, you can add Accidental Serious Injury cover to your Policy.
We know that people have different needs, which is why we offer two flexible Policy types to choose from; age based or level premium. Both types can be kept for the rest of your life (known as 'whole of life') and you'll be able to make changes if your circumstances change.
Age based - how does it work?
With an age based Policy, the premium is based on the age of the eldest life insured. That could be you, or if you take out a Family Plan, it could be your partner. The premium is recalculated each year at your Policy anniversary; gradually increasing in line with the eldest person getting older. Once that person reaches age 80, there won't be any more age based increases to the premium. After the eldest person insured reaches 90, you won't pay any more but you'll still be covered! With an age based Policy, your monthly premium will start lower compared to its equivalent on a level Policy type, so this might appeal to you if you're on a tight budget during the early years of holding the Policy.
Automatic cash sum increases: the age based Policy features a 5% automatic annual increase to your chosen cash sum for your Guaranteed Life Insurance and any optional cover you have. It's added automatically to your Policy each year, for 10 consecutive years or until the eldest person insured reaches age 74, whichever is sooner.
Example: If you have chosen a £2,000 cash sum, the next year you'll be covered for £2,100. At the end of 10 years, as long as you don't opt out of the increase, your cash sum would be £3,000.
If you're planning to leave your cash sum to pay for funeral expenses, this gradual increase in your cover could help protect from the effects of funeral cost inflation. If you want to opt out of the automatic increase, just let us know. You can still opt back into it during the first 10 years; whatever suits you best.
Level - how does it work?
The level Policy may appeal if you want certainty, knowing that your monthly premium won't be affected by your increasing age – it will stay the same each year unless you ask us to make changes to your Policy. You'll be covered for the whole of your life and after the eldest person insured reaches age 90, you won't have to pay anymore, but you'll still be covered.
The 5% automatic cash sum increase is not available on a level Policy, so your chosen cash sum will stay the same. With the level premium option, it's important to note that the value of your chosen cash sum might not keep up with inflation.
For even greater peace of mind, you can add Accidental Serious Injury cover to your Sorted Guaranteed Life Insurance Policy for an additional premium.
Accidental Serious Injury cover
Accidental Serious Injury cover provides an extra cash sum benefit if you were to suffer one of the following serious injuries as a direct result of an accident; blindness, deafness or total and permanent loss of use of two limbs.
The cash sum for this cover is 3 times your chosen Sorted Guaranteed Life Insurance Policy cash sum (so if your chosen cash sum is £15,000, your Accidental Serious Injury cover would be £45,000).
You must be aged 30-69 if on an Aged Based Policy or 50-69 if on a Level Policy
Accidental Serious Injury cover will end after the eldest life insured reaches 74
Our optional cover can only be taken as part of the Sorted Guaranteed Life Insurance policy and not individually.
Download the Sorted Guaranteed Life Insurance Key Facts and Terms & Conditions document for more information on inclusions and limitations to the optional cover above.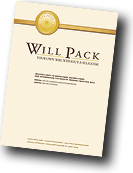 Receive a Will Pack with your Policy
When you take out a Sorted Insurance Policy, you will automatically receive a Will Pack from us for added peace of mind.
A will is a legal document that transfers assets following a death. It is essential if you want to make sure that your assets/estate, including your life insurance is handled as you wish and given to the right people.
Why is a will essential?
Acts as a legal document
Distribution of personal effects – including sentimental/intrinsic value items. Sometimes even close families find it difficult to share items such as heirlooms, antiques or jewellery
Distribution of property - including estate and finance
Appointing personal representatives – to administer your will and ensure your wishes are fulfilled
Appointing guardians for minor children – whether the estate is big or small you will want to ensure that if both parents pass away, your minor children will be looked after by someone you have personally selected
Providing information of your wishes upon death – whether you want to be cremated or buried for example.
Please note that if your financial or family situation is complicated, you should run your will past a legal or tax professional to ensure that you have filled in correctly
A few other things to consider before and after filling in your will:
Store your will in a safe place where it can easily be accessed upon your death
Must be competent and not under the influence when filling in
If you need to make changes to your will at a later date, you must sign it, have a witness present to sign and attach to original will. If the changes are major, you must start a new will
Update every three to four years to include any changed circumstances such as new births or new appointed guardians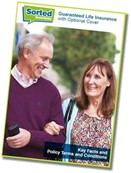 The Sorted Guaranteed Life Insurance Key Facts and Terms & Conditions document has important information about the Guaranteed Life Insurance and the optional cover that you can add to your Policy. It includes features, benefits, exclusions and limitations.
It's very important that you read the Sorted Guaranteed Life Insurance Key Facts and Terms & Conditions document so that you have all the information you need to make an informed decision.
Things to think about
There is no cash-in value at any time
Inflation may reduce the value of your cash sum
Depending on how long you live, you may pay more than you get back